What To Do First
Before your car arrives;  In order to properly assess the needs of your car, there are certain items that need to be removed.  Removal allows access to the areas not normally visible that often hide rust or previous damage that was unknown before.  Removal also protects those parts from damage during the rebuilding process, resulting from grinding
Read more...
Our Mission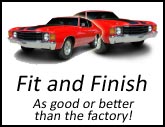 Our goal at Graverobbers Sheetmetal Replacement is to provide our customers with an affordable alternative in turning their project from junker to jewel.  By reconstructing your car on our custom built jigs to locate the frame rails and body panels to simulate the manufacturers original process, we can ensure that the fit, finish and dimensions are as good or better than when the body left the factory decades ago. All cars are spot welded or stitch welded and primed using the latest technology and materials such as weld thru and epoxy primers and digital inverter welders to install full OEM style panels to create a body shell that is stronger and more rust resistant than ever before.
Before your car arrives;  In order to properly assess the needs of your car, there are certain items that need to be removed.  Removal allows access to the areas not normally visible that often hide rust or previous damage that was unknown before.  Removal also protects those parts from damage during the rebuilding process, resulting from grinding
and welding which can permanently damage items like glass and upholstery. After you have removed all the glass, interior, fuel tank and front sheetmetal you can fully inspect the panels both inside and out. At this point you can go to our price page for your model and build and estimate based on the known needs of your car to create a budget plan.
After your car arrives at our shop it will be placed on our Jig to check the straightness of the body shell and inspected for damage and a complete estimate will be written up for your approval. Upon acceptance we ask that all costs for parts be paid with the balance for labor to be paid on completion and acceptance of all work.
While we have done our best to build price sheets that accurately reflect the costs of all procedures, these are just estimates based on availibilty of parts and condition of adjoining parts and a complete estimate cannot be formulated with out a full inspection at our facility.